I'm a little… particular. And I like to do things in order - like cleaning out the fridge before putting in new groceries, vacuuming before moving the furniture back into place and painting before hanging photos or artwork. So when Mathew and I purchased our Colorado home, I knew it was going to be a while before we hung anything up and I'm not kidding, every single room in this house needed some sort of help. Our home had been one of the model homes for our neighborhood and had been "professionally decorated…" circa 2005. We must have seen potential through the green & tan checkerboard painted walls and the hideously ugly wallpaper slapped up in the kitchen and EVERY single bathroom. What were we thinking? I don't know. I do know that back then we didn't have a baby and I also know that the next house we buy will be painted before we move anything in because well… I'm particular.
The Little Leaf office was one of the first rooms we painted because I couldn't sit in a tan & dark green room and be inspired. Neither could you? We just might become best friends. At the end of last summer, we had the main living areas painted and while there are still a couple of rooms and a hallway to go before we are 100% finished, we are definitely in the home stretch. YAY.
Anyway, I have been collecting pictures frames for, um, I don't know about three or four years (that's just sad) from places like West Elm, Crate & Barrel, Target & IKEA with the intent on framing family & client photos. Collecting is a good word because I was beginning to think I had a buy-a-new-frame-and-don't-put-anything-in-it hoarding problem. Side note: When I was in Atlanta last May, I bought about a dozen different frames from IKEA and when I went to ship them back to CO, the lady behind the counter asked who I was shipping them to and I said myself and she looked at me like I was crazy and I was like, lady… I'm TOTALLY crazy!
Fast forward to December. The goal was to get everything up on the walls before the New Year. Here's what my dining room table looked like for about a week (maybe more).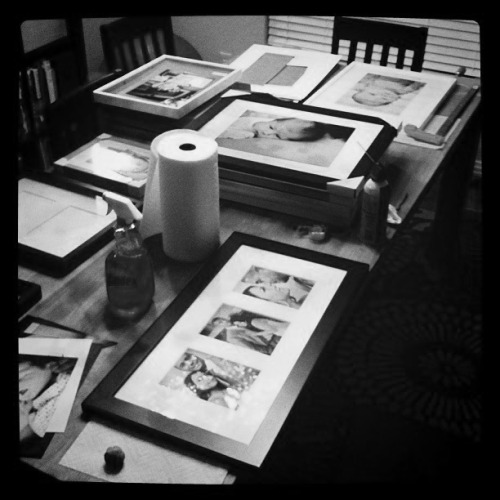 It was a little mind numbing trying to frame that much at one time, but it's done and they are all up! The stairwell is a mixture of family photos & I'm glad I waited to do this until AFTER Beckett was born or I'm afraid it would have been another four years before he got some representation!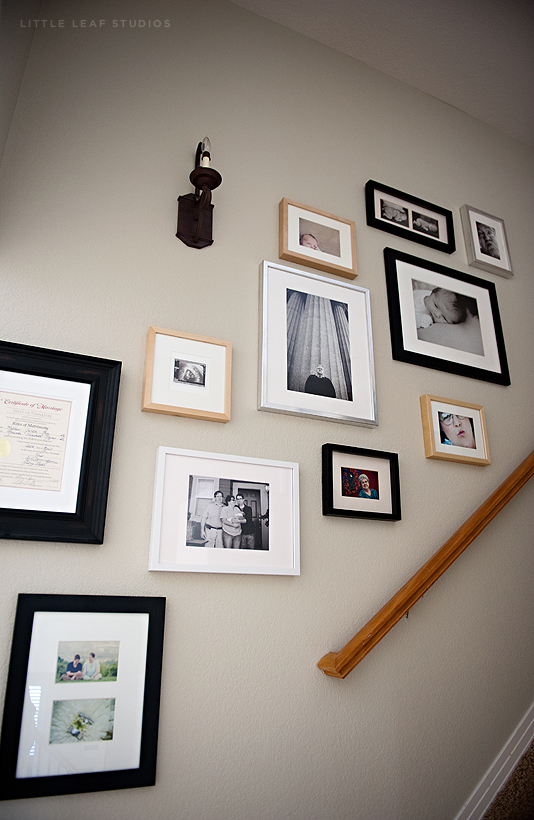 And here is the Little Leaf office all decked out!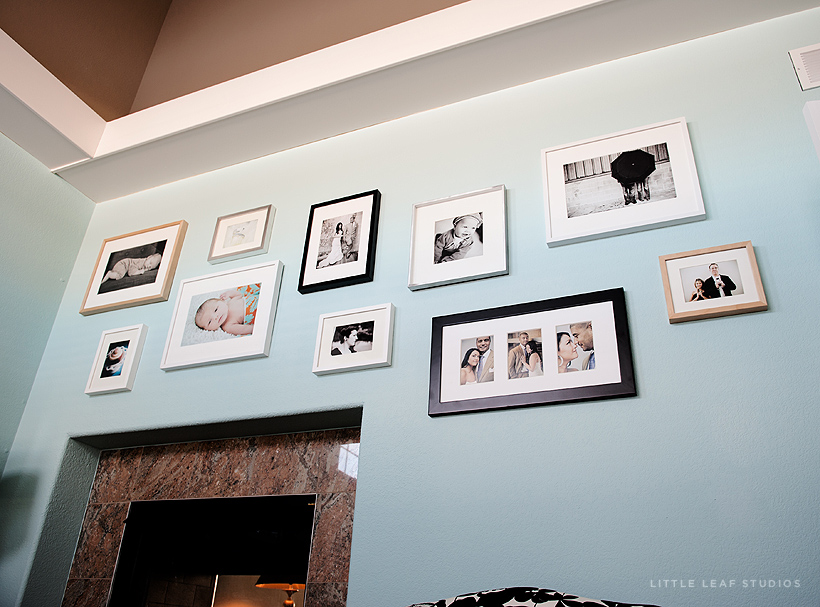 (Some rooms we painted ourselves, but for the wallpaper removal & painting of the main living areas including the stairwell, we hired professional help. Candi at The Painted House rocks and she did an amazing job. Tell her I sent you!)